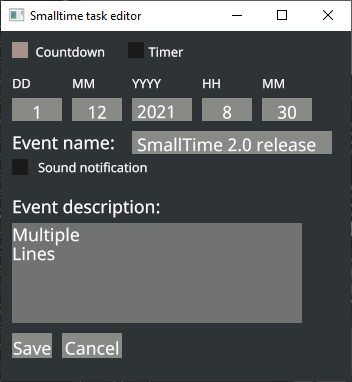 Task editor for new version of SmallTime (currently 1.7.0) is almost fully operational, which means I am finally using it instead of the old version. There are no user interface changes to be seen except new darker theme, but under the hood, the task editor has a big potential. New features will be easy to add and there is much more to come.
However, there are still some bugs that make user experience a bit uncomfortable so theese need to be fixed first. Last thing missing is implementing a system for sound notification when your task starts. Also note, that this version of user interface is a work in progress and is not a representation of a final product.
There will hopefully be an open beta at the end of this year to find out if there are any bugs that were not caught in process of internal testing. After that a new set of features for everyone and a set of customisation options for future premium users will be implemented. Those features will be added troughout next year or two to make SmallTime better, more flexible tool to jumpstart your life and to remind you of things you need to get done.