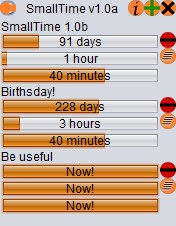 This release of SmallTime contains critical fix to bug that occured after deleting timers at specific positions. The issue is now fixed and as a bonus, I included a new feature that I was developing before the bug reports came to me.
List of features/fixes
– fixed a bug that caused app malfunction after deleting timers in specific positions
– more detailed informations about event can be set.
– changed icon positions in main countdown window.
You can download SmallTime 1.0a by clicking here ->

Backuping old timers
warning: this is recommended for advanced users only. By not following the instructions properly, you will cause SmallTime to stop working!
In case you have many timers (i have 7 of them right now 🙂 ) you may wish to move them into new version of SmallTime. You can do this by locating "dates.txt" file,  located in "C:\Program Files(x86)\Smalltime\app" directory by default. Open this file and add # at the end of every line. Make sure that there is no empty line at the end of the file! It will cause SmallTime to stop working. Now save the "dates.txt" file somwhere, install new version of SmallTime and replace the "dates.txt" from the old version to the "app" directory of SmallTime´s new version.
I hope you enjoy! There is a bit more stuff that have to wait until new release cycle… probably in april 2015 (if i will finally manage to stick to my deadlines)