First of all, Im sorry.
There is a critical bug in SmallTime app causing it to stop working at all. The bug occurs sometimes, when you delete one or more of your timers.
How to fix
Go to your app directory (usually C:ProgramFiles(X86)\Smalltime) and go to the app directory, where you will find file dates.txt . Open it and delete the empty line you see. This should fix the bug.
The file looks something like this.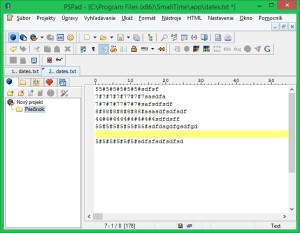 How to avoid it
Delete all your timers at once. Then add some new. It is annoying but at least it works
Patch on the way
I am working hard to bring you the new version fixing this problem as soon as possible. It seems that I have already fixed this issue in my version, but I must make sure, there are no hidden problems left. I will also introduce a little nice feature that I developed and wanted to release at a later date. I had yet another feature planned but implementing it would hold the release, so it is out of question for now.
Thank you for being patient and thank all those who reported this bug.