SmallTime 1.8.3 brings small optimisations, tweaks and an important bugfix for people who travel around the world and need/want SmallTime on their laptop.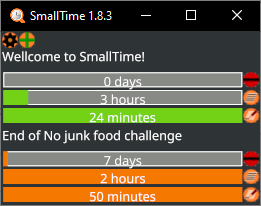 SmallTime 1.8.3
Published:
February 21, 2023
New features
Floating window
SmallTime will be slowly turning away from the docked window as a default state next year. This is mainly because new users may not feel comfortable with docked window and may feel that something is not right. However, you will still have an option to dock SmallTime to the side of your screen. And I must say that it is the way I use SmallTime every day.
Bugfixes
fixed a theoretical crash if ZALGO text was inserted into the task name
fixed wrong task time data when creating a task in one time zone and then moving to another timezone.
Other changes
reorganising the app code to allow faster development in the future
compatibility system for keeping your data from old SmallTime releases (starting from 1.8.2) when upgrading to a new version.