SmallTime 1.0e coming soon
SmallTime 1.0e release is planned on 31st May 2017. Note that the release may be postponed by a week because intense testing is now in progress.
SmallTime 1.0e is a bugfix release with ground ready for new features and will be backwards compatible with version 1.0d.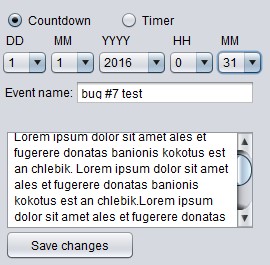 Help with bug investigation
Some people don´t see the application icon in taskbar when they run smallTime. Instead they see default Java application icon(cofee on grey backgrond). It seems that only I and one other person have this problem. I have confirmnation of at least eight other machines where the icon is shown properly. Please let me know if you experience this bug. Post down here in the comment section or send me an e-mail to lubosmudrak93@gmail.com
Thank you very much.
Linux version situation
Although I managed to run SmallTime properly on Linux, I still did not have time to setup the application installer and figure out how to make installed app run on every system startup. There are more ways to do this and I am looking into what will be the best option for me. SmallTime with Linux support (1.0f) will be released on 1st September 2017.