Testing versions of software by SmallSkill Studio can be found here. This page is not meant to be viewed by broad public. Software here is unfinished and you are downloading it on your own risk!
SmallTime 1.8.0 alpha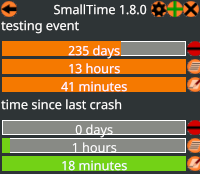 SmallTime 2 (currently version 1.8.0 alpha) is a complete rewrite of SmallTime application. Full version of SmallTime 2 will feature better customisability and much bettter size optimisation.
Known issues:
part of the buttons on the right side are cut off due to unfinished UI cleanup
task editor crashes if SmallTime is running for some time
settings are not available (turning on settings via manipulation of data file is NOT recommended and may cause unwanted behaviour and app crashes)
limits for text length are low(keep your event names short)
sound notifications are very cpu-intensive (this will be optimised later)
Download link – Windows: